Join us at a rehearsal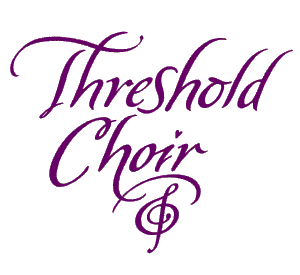 Because we are all busy women with crazy lives, our rehearsals are scheduled to ensure that anyone who is interested can find a way to participate.  Each week there is at least one rehearsal (often more), and locations, days and times are fairly irregular, just like our lives.  If you would like to find out what it might be like to sing with us, just drop us an email and we'll find an upcoming rehearsal that fits with your schedule.
You can also check out our chapter overview to learn more about our group and how we operate.
Invite us to sing 
If you or a friend or loved one is a hospice patient, you are welcome to contact us to arrange a bedside sing.  We currently have ongoing relationships with Forbes Hospice, Family Hospice, Heartland Hospice, and Three Rivers Hospice and are happy to speak with patients or staff from any other organization providing hospice care.  We cannot promise to get to every bedside, but we do our best to accomodate ad hoc requests.  As we grow we expect to be able to provide access to bedside singing to any hospice patient in Allegheny County who could benefit from our services.
Audio and video articles about us and our friends 
Saturday Light Brigade Radio Interview
Pittsburgh Choir Offers Comfort To Those In Hospice (from WESA-FM Pittsburgh)
'Threshold Choir' Brings Songs of Comfort to the Dying (from KQED San Francisco)
Threshold Singers of Indianapolis (from WFYI-FM Indianapolis)
Philadelphia Threshold Singers at Liberty Hospice
Music to Patients' Ears: Home, Hospice and Palliative Care Patient Stories (from Penn Medicine News Blog)
DIY funerals: Threshold Choir sings for the dying and those left behind (from CBC British Colombia)
This Choir Sings to People on the Verge of Dying, and It's Just Beautiful (from Reader's Digest)
Threshold Choir: A Legacy of Healing and Peace (from Go60.us)